Is It Normal to Smell Gas Near a Furnace?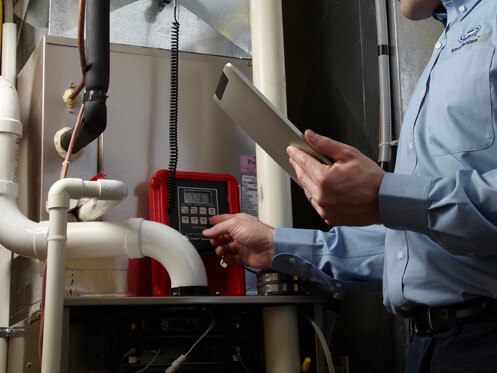 During the winter months of the year, your Lake Oconee, GA, home's furnace will efficiently heat your home. Gas furnaces burn natural gas to create heat. Gas suppliers add mercaptan, a foul-smelling chemical, to the gas. They do this because natural gas has no color, odor or taste of its own. If you smell the strong odor of natural gas, it's important to be aware of what's happening so that you can take the appropriate action to protect your safety and home.
When a Heating Cycle Starts
The only time it's normal to briefly smell the odor of natural gas is when a heating cycle starts. The pilot or ignition needs a fraction of a second to ignite the gas. Once the gas ignites, the odor goes away. You should only be able to smell the gas if you're standing right next to the furnace the second that it begins a heating cycle.
Persistent Gas Odor
If the gas odor lasts for the duration of a heating cycle, this isn't normal. Your furnace needs professional attention. It may have a gas supply, ignition, pilot, burner, heat exchanger or air seal problem. The furnace could also have a gas leak. Evacuate everyone from your home, and call for repairs.
Strong Smell of Gas in Other Areas of Your Home
Gas piping often extends through a home in order to serve the clothes dryer, oven, water heater and furnace. If you can smell the odor of natural gas in more than one area of your home, there could be a gas leak somewhere in the gas line. Immediately get everyone out of your home, and call for emergency repair service.
Oconee Climate Control is Lake Oconee's trusted provider of furnace repairs. We also offer air conditioning repairs and heating and air conditioning maintenance and installation. You can also count on us for affordable indoor air quality services. To learn more about when it is and is not normal to smell natural gas by your furnace, get in touch with us at Oconee Climate Control.