How to Replace the Air Filter in Your Furnace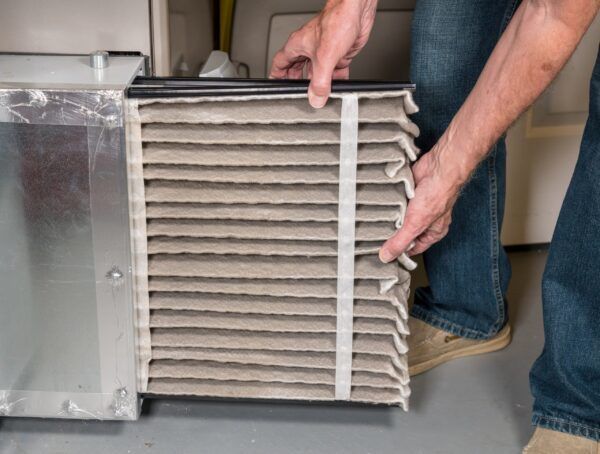 Replacing your furnace filter is one of the most important HVAC maintenance tasks and something you should always do at least once every 4 to 12 weeks. A dirty air filter will restrict how much air can flow into your furnace and lead to it producing far less heat. Dirty air filters are also the number one cause of overheating and other furnace issues. If you've never replaced your filter or are unsure how to do it, here is everything you need to know.
Important Things to Remember When Replacing a Furnace Filter
In most HVAC systems, the filter is located inside the return air duct directly next to your furnace. However, there is also a chance that the filter is located behind your return air grille instead. In some cases, there may be a filter in both locations.
No matter where your filter is located, the process for replacing it is basically the same. All you need to do is slide or pull the old, dirty filter out and put the new one in its place. If your filter is in the return duct next to your furnace, you need to make sure you slide it in as far as it goes, as otherwise there will be a gap in the duct where dust and debris can pass through.
The most important thing to pay attention to when putting the new filter in is that it is facing the correct direction or it won't work as it should. Luckily, this is quite easy as all new filters will have an arrow stamped on them that shows which direction they need to face, and this arrow should always point in the direction that air flows through your ductwork. This means that the arrow should point toward your furnace or toward the inside of the air duct if you have a filter behind your return air grille.
How to Know What Type of Filter to Use
We would generally always recommend replacing your air filter with exactly the same type as you already have. However, if you have allergies or respiratory problems or are concerned about your home's air quality, you may want to consider using a filter with a higher MERV rating as this will be more effective at trapping allergens. A MERV 5 to MERV 8 filter is sufficient if you're mostly concerned about protecting your HVAC components from damage, but a MERV 10 to MERV 12 filter will always be more effective at preventing air quality issues.
If you need any HVAC service in the Eatonton area, Oconee Climate Control is ready to help. Our team installs, repairs and services air conditioners, heat pumps, furnaces and indoor air quality equipment, and we work on both residential and commercial HVAC systems. For more information, give us a call today.