Electric or Gas? Which Type of Furnace is Right for You?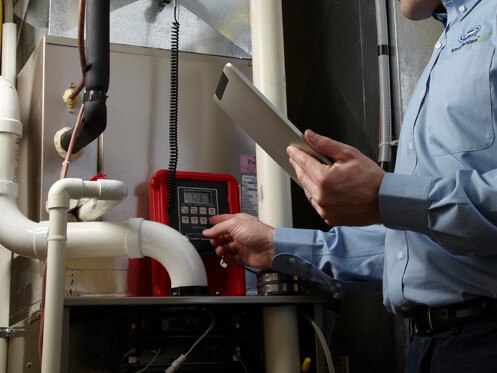 If you're in the market for a new furnace, you may be considering whether to go with a gas or electric model. Both types of furnaces offer several benefits, but choosing which is right for your home depends on several factors. The following can help you with your decision.
Benefits of Gas Furnaces
Gas furnaces are very popular in the United States. One of the reasons for this is that natural gas is readily available across the country. Natural gas is also relatively inexpensive, and prices often stay quite consistent, which isn't the case with electricity. Compared to electricity, gas can cost approximately 50% to 70% percent less, depending on where you live.
Another benefit of gas furnaces is their efficiency. Modern gas furnaces can be 98% efficient, so practically no energy is wasted during operation. You can also enjoy very quick heating with gas systems, no matter how cold it is.
Benefits of Electric Furnaces
One of the main benefits of an electric furnace is added safety. Because no combustible fuels are used, they come with reduced fire risk, and you don't have to worry about carbon monoxide leaks. This can give you greater peace of mind when operating your furnace.
Modern electric furnaces are also quite efficient, and they can cost less to purchase and install. You can benefit from additional cost savings due to the longer lifespan of electric systems. In fact, an electric furnace will typically last 20+ years, whereas a gas furnace averages 10 to 15 years.
Which Type of Furnace Should You Choose?
Knowing the benefits of gas and electric furnaces can help you make a decision, but there are some other things to consider. If you already have gas piping in your home and are interested in fast heating and lower energy bills, a gas furnace is probably the best choice. If you're looking to minimize your upfront costs and invest in a long-lasting system, an electric furnace could be an attractive option.
If you need additional help exploring your furnace options, the team at Oconee Climate Control can help. We install, maintain, and repair furnaces, heat pumps, and air conditioners in Eatonton and the surrounding area. Our team also provides duct cleaning, indoor air quality, and commercial HVAC services. Contact us today to schedule an appointment.