Can Air Conditioning Cause Headaches?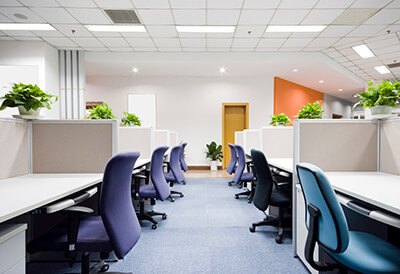 Office Building If you work in an Eatonton office building with central air conditioning, you may have noticed that you often leave work with a dull headache. Is the HVAC system to blame? According to the experienced technicians at Oconee Climate Control, a poorly performing air conditioning system can negatively affect your health, including headaches. How does it happen?
Too Much Dry Air
When an air conditioner is cooling, it not only removes heat but also moisture from the air. If the humidity drops below 20%, you may experience dry sinuses which can result in a dull, pounding headache. Nasal sprays can help alleviate immediate symptoms, but actually, the AC system requires service or a humidity sensor to prevent the problem in the first place.
Lack of Fresh Air Traps Germs, Mold, and Pollen
When you seal up a house or office and use only central heating and cooling to maintain a comfortable temperature, you are no longer introducing fresh air and trapping existing impurities in the system. Mold can grow in the ducts. Air-borne viruses are never replaced with a new fresh untainted air source. Grass and tree pollen move from room to room, never going away with the seasons. All of these impurities can cause headaches and even debilitating illness. A professional HVAC technician will help to balance healthy outdoor air with the cool and dry air in the system.
Constant Noise from Unbalanced Fans
Finally, every air conditioning system includes motors and fans. Over time, the moving parts wear and the fans will begin to vibrate. Constant exposure to repetitive noises can cause a tension headache. Only by repairing or replacing the aging fan will you eliminate the cause of the unending rumble and vibration. Otherwise, the hum will just become louder and louder as your tension continues to rise. It's no way to live.
Routine Maintenance for Your AC can Prevent Problems
If everybody experienced headaches all the time in a controlled environment, we wouldn't live with air conditioning. The fact is your HVAC system doesn't have to cause headaches and illness. When you sign up for bi-annual preventative maintenance visits from Oconee Climate Control, your home or business will maintain a comfortable working environment that not only feels good but doesn't cause any undue discomfort for your family and employees.
Dependable AC Service
Has it been a while since your Eatonton air conditioning unit was serviced? Give the friendly experts at Oconee Climate Control a call today and schedule your maintenance appointment with us.