3 Energy Efficiency Tips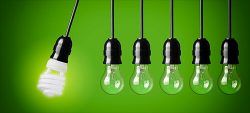 Using less energy in your Eatonton home benefits the environment while also saving you a significant amount of money on your heating and cooling bills. Since your HVAC system is responsible for a large amount of your energy usage, it's important to find ways to make it more efficient. Keep the following tips in mind in order to improve your home's energy efficiency.
1. Invest in a Programmable Thermostat
If your home still has a standard thermostat, switching to a programmable one is a highly effective way to lower your energy usage. With a programmable thermostat, you don't have to remember to raise or lower the setting at different times during the day or night, such as before leaving for work or before going to bed. Instead, you can set your programmable thermostat to do it for you. Keep in mind that adjusting your thermostat by even a few degrees can lead to considerable energy savings. When you have a programmable thermostat, you can depend on it to change temperature settings as scheduled.
2. Set Up Routine HVAC Maintenance
Your HVAC system runs often during certain times of the year, which can lead to wear and tear. The components inside your system can also become covered with debris over time, causing the entire system to operate less efficiently. When your HVAC system hasn't been maintained, it can end up running for long periods of time, which uses up more energy. Having routine HVAC maintenance done helps ensure that your system has clean components that can run smoothly, resulting in improved energy efficiency. In addition to saving energy, your home will also feel more comfortable throughout the year as your HVAC system runs more efficiently.
3. Switch to a More Energy-Efficient HVAC System
If you have an older HVAC system, consider replacing it with a newer one that offers better energy efficiency. Look for HVAC systems that have a higher SEER rating and an Energy Star rating, which indicates that they provide a greater level of energy efficiency. Depending on your property, you might also benefit from switching to a geothermal heat pump instead of a traditional HVAC system. Geothermal heat pumps use ground heat instead of fossil fuels to heat homes, which results in improved energy efficiency.
#1 HVAC Company in the Eatonton Area
If you're looking for ways to make your home more energy-efficient, contact Oconee Climate Control. We offer highly efficient HVAC systems, programmable thermostats, geothermal heat pumps and other products that can improve your Eatonton home's energy efficiency. Our technicians can help you determine the best ways to reduce your energy usage with the right HVAC equipment.